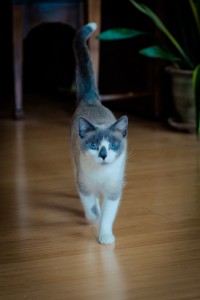 There's an old joke about when life begins with the punchline being "Life begins when the kids leave home and the pets die." When our son and daughter were growing up we had two cats, Trixie and Tiger. Our children are grown now and long ago left home. Trixie passed away several years ago and Tiger followed three years ago. So our life should begin.
But Dani kept talking about getting another cat. One day she noticed two rescue cats in a store front. While she shopped nearby I visited the cats and immediately took a liking to a blue-eyed Snowshoe named Beatrix. Of course when Dani saw her she fell in love with her and we made plans to adopt her.
Beatrix is slowly getting used to us. She won't sit on our lap yet but she will lay on the couch near us in the evenings. She is a beauty with a very nice personality and will be spoiled rotten by us.
If you are near the Reading PA area, we adopted Beatrix through Catworks, Inc. They are a great group with lots of cats looking for a new home. You can find them here – http://www.thecatworksinc.org