Archive for December, 2012
2012 was a very eventful year for us.  There were several highlights including a few trips and the biggest event of the year in New York.  We started the year visiting Phil's parents in Florida.  Philip flew in from Colorado to spend time with us.  It was a great winter get-away.  We were back in Florida in May after Phil's mother had heart surgery and a stroke.  She progressed well through the year and ended up dancing at her grandson Matt's wedding in October.
We took a summer trip to visit Phil and Apryle in Colorado. While we were there we helped build a new home for the chickens – a luxury coop with straw walls and a picture window.  Phil is still working at REI in Boulder both in the store and leading trips for clients.  He was selected the store's employee of the year.  Apryle is completing her Masters in Ecology and is working at Rocky Mountain National Park on elk research.
We had a wonderful week at the Outer Banks in October with Dani's parents.  Gorgeous weather, beautiful water and lots of photos.  We rented the same house on the beach as we did last year and woke to beautiful ocean views. One interesting occurrence was the large number of starfish that washed up on the beach this year.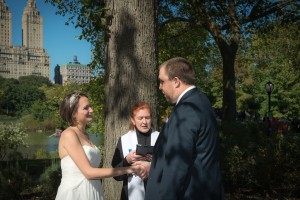 The highlight of our year was Carrie's wedding in October.  She married a great guy – Topher Nichols – in a Central Park ceremony.  Parents and about 20 local friends spent the sunny day celebrating their wedding.   They live in the Washington Heights section of Manhattan.  Carrie is teaching music in a public elementary school and Topher works for a large non- profit in Westchester.