Archive for January, 2012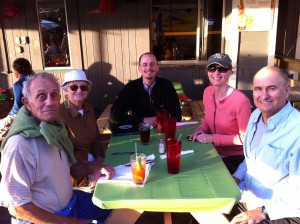 Spent a week visiting my parents in Largo, FL.  Our son joined us from Colorado. Sunshine and near-record temps helped beat the midwinter blues.
The photo above is was taken at the Hurricane Grill in Pass a Grille, the southern end of St. Pete Beach.  My parents took me there a couple of decades ago and the place has grown from a small shack to a multi-story restaurant. Their specialty is grouper and the sandwiches are fantastic.  Across the street the sun setting over the Gulf makes it a magical setting.